An Interview with Ms. Halverson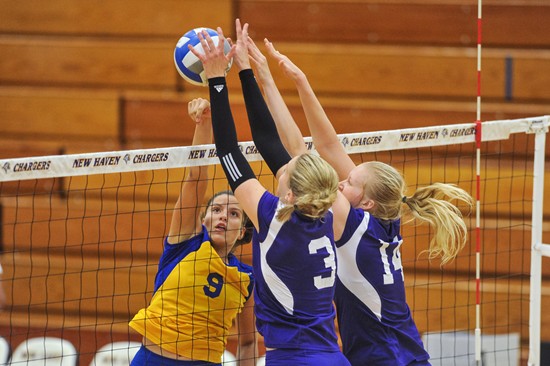 An Interview with Ms. Halverson
By Kate Hannon
On the morning of Friday, the 28th of October, Ms. Halverson sat at her desk in the room she shares with Mr. Burke. A student stood by her desk and asked questions about a lesson he didn't understand. A few minutes later, a senior came in to hand in her volleyball jersey. This was not an unusual morning for the special education teacher from Patchogue. Over the course of our interview, her passion for working hard and helping others came up many times. Ms. Halverson shows these values in all she does. As a senior at Mount Saint Mary College, she was named the Skyline Women's Volleyball Player of the Year after breaking school and NCAA records. Recently, she was inducted into the Mount Saint Mary Hall of Fame. She applies the same work ethic to coaching, according to Erin Conlon, a junior on the team, "Ms. Halverson is really nice and I've improved so much from her coaching!"
Since coming to Babylon, Ms. Halverson has enjoyed the supportive atmosphere and the close knit family at BHS. She also likes the student teacher relationships BHS is home to, maybe because she knows the value a good teacher can have; until 11th grade, when Ms. Halverson had one such good teacher, she hated math. Now Ms. Halverson loves math, so much so that she has dedicated her life to it.
The student Ms. Halverson had been helping thanks her and leaves. He now understands the concept he'd been unsure of. The conversation shifts to her family. Ms. Halverson's role models are her parents, because they worked hard so that she and her brother could succeed. She's also very close with her brother, although when they were younger they fought a lot. Once, when Ms. Halverson's brother had a field trip, she was running out the door to catch the bus and didn't notice her brother behind her. The door slammed in his face, and he ended up missing his field trip. Ms. Halverson still feels bad today!
Also part of her family is her dog, Bentley. Ms. Halverson holds up her phone and shows me the lock screen- a picture of Bentley, a rescue. If she won the lottery, along with buying a house and a boat, Ms. Halverson would like to start a shelter for rescue dogs. Along with dogs, Ms. Halverson loves coffee, 100 Grand Bars, and Jodi Picoult books. She's a gemini and although she doesn't believe in horoscopes, she does check them. Although, Ms. Halverson says she's terrible singer, The Voice is one of her favorite shows, along with Game of Thrones and Grey's Anatomy.
The bell rings and it's time for first period. On my way out the door, I see two more students, girls from the volleyball team, entering Ms. Halverson's room. Ms. Halverson has only been here for a short time, yet already she's cemented her place in Babylon.