The Kissing Booth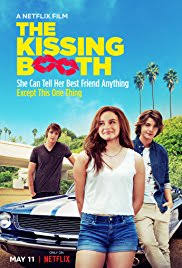 Over his past weekend, a Netflix original movie titled The Kissing Booth came out. While others may have been getting in a few extra hours of studying for upcoming AP tests, I decided to invest my time in watching this movie, and let me tell you, I was not disappointed.
This film was based off a best selling novel by Beth Reekles, and it's about a set of boy and girl best friends, named Lee and Elle, who live by a set of rules that ensures that their friendship lasts. One of the major rules is that Lee's older brother, Noah, is off limits in terms of dating. However, like most of you would guess, Elle and Noah fall in love.
Elle, who is played by Joey King, is a 16 year old girl who runs a kissing booth for her school carnival. Noah, who is played by Jacob Elordi, is a typical "bad-boy" and "player" who attends the kissing booth and steals Elle's first kiss. Throughout the movie, you get to see how they fall in love and how their relationship develops and changes, but they have to do all this and keep it a secret therefore Lee doesn't find out.
Now I know that this seems stereotypical, but something that makes this movie original is the excessive feelings that the characters experience. From heartbreak, to sadness, to love, this movie has it all.
So, if you're like me (aka a hopeless romantic) you have to watch this movie! 10/10 would recommend.