Chapter 3: The Beasts in the Mountains and the Oracle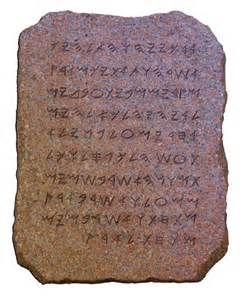 After the War's conclusion, Mortem punished the World. He punished the life, he punished the ground, and he punished the sky. Mortem turned evil men into their inner forms, such as with the Lizard Beasts, the Zakaz. But Mortem punished more than just the Zakaz. The creatures of the world have been turn into monsters by Mortem's hand. Mortem turned the unconditionally greedy into goblins, who now lurk at the highest peaks closest to the sun. Winged beasts soar the sky, and attack when they please. The land, once green and pure, is burnt and corrupt. The great seas, filled with fish and treasures, was boiled down into pits of death. The sky, painted with clouds on a blue canvas, was replaced with gray and yellow slime clouds on a red canvas. Many questioned why Mortem would do all these terrible things to us? There is only one reason why: The lesson. A lesson in which the whole world will learn from their mistakes, and to not remake the same errors again. This is the only way to recovery, to salvation.
5.      Let the World learn from our mistakes, and let it recover. Let all ambitions and desires be put at rest for now, for a restless being will be a mad one. In recovery, the World will be rebuilt and healed.
-The Tablets of Ram
After the Archers imprisoned Raza, they started to argue among themselves. This was one of their darkest hours, conflict in their own order.
"ZINC! WHY DID YOU KILL THEM! WE WEREN'T ABLE TO INTERROGATE THEM!" Argon screamed at Zinc.
Zinc only replied with one answer, "I realized that if we did capture them, we wouldn't get anything out of them. The father didn't even contact the family because we killed them. But just in case, before any spreading could occur, I decided to kill them. They will no longer be a threat, and if it did spread, then we can clean up the mess."
"While I ssee the reason why you would do thiss, you did go angainsst all of our wishes, esspeically ssince it wass your idea. But I fear the sson iss sstill a threat in ssome way," Tungsten said.
"Yes, but for now we should focus on finding the Texts," Radon said.
"HOW? WE DON'T EVEN KNOW WHERE THEY ARE?", Argon bellowed.
"Yes…but I…think I… know… what we… can do," Boro said, "It is… risky, but we… can go… see the… Oracle… in the… South."
Zinc replied, "The Oracle has no allies, why should we go ask it for help."
"That iss the exact reasson. It hass no alliess, sso the chance of uss getting the information out of it will be more ssucessful," Tungsten answered.
"Well seeing how we have no other choice now; the Oracle is our last option." Radon exclaimed, "All in favor?"
"Aye," said the Archers.
The Archers left to see the Oracle the next day. As they left on their horses, battalions of Zakaz were being sent to The Caverns. The Captain of the Batalions, who goes by the name Sulfra, now become the new Soveregin of the Caverns. Sulfra promised the Archers that there will be no more mistakes when he's in charge. The Archers, knowing Sulfra from previous expereince, trusted his promise and rode off. The Archers crossed the vast desert to the South, where the Oracle lays on its rock.
Meanwhile, Mozak and Xenon were walking across the landscape. Xenon was walking faster to get to the hideout, so he could heal his wound. He grunted sometimes in pain as he walked from the sting. Mozak didn't say anything after he was finished crying, nor while he was walking to the hideout. His scaly feet made a crunching sound on the burnt ground, and the wind blew through his scales. Mozak was still upset, but he didn't know what to do next? He didn't feel like crying, even though he was still upset, and he didn't feel like talking, even though he wanted to confess to his feelings. Mozak only wanted to do one thing now, nothing. Just to enjoy the silence and walk quietly behind Xenon. That was the only thing that comforted him now.
Mozak didn't he realized that Xenon stopped walking, and when he turned his head upward, he noticed a tall mountain in front of him. It wasn't giant, but very slim, and tall. Tall enough to touch the clouds at least. It stood like a soldier in the empty land and gave a black shadow from the light of the moon. Xenon shook Mozak.
"Mozak, are you okay?" Xenon asked.
Mozak didn't know how to respond. Should he lie and enjoy this comfort, or tell the truth and feel the pain. "I'm not sure," Mozak said. It sounded confusing and odd, but that was how Mozak was feeling at the moment.
Xenon knew that Mozak was devastated, but he also knew he needed to get this healed soon. He planned to talk to Mozak afterward, but for now, they must climb. "Mozak, follow me up the pathway. Will go into my hideout and I'll treat the wound. We'll stay the night, and tomorrow morning we'll leave ok?" Xenon said.
Mozak understood and just shook his head. For some strange reason, Mozak felt less sad when he thought about the plan. Maybe this journey will be a distraction, for now?
They climbed up the pathway, up the tall black rock. The wind hissed through their clothing, leaving a chill feeling in their bones. Mozak felt his body shiver in response, but continued further. When they stopped, Mozak recognized how high they were. All around them was the vast landscape, and in the far distance was the Mountains and the Caverns they came from. The world felt so large, even though there wasn't that much around. Xenon led Mozak into his hideout, which was a cave on the side of the mountain. The hideout had a small fireplace, a large sleeping bad, and a bunch of contraptions laying all around. Xenon quickly went in.
"Ok. I'm going to get this fixed up. If you can lit the fire, that would be very helpful," Xenon said. Xenon then rushed to a corner of the cave with a sack of supplies. He took out some bandages and ointments and began to clean up the wound. He grunted in pain when the ointment stinged his cut, but when he was finished, the overall pain stopped. He then got some herbs, mashed them up in a small mortar and pestle, and began to rub the combination on the wound. It felt cold and nice on the cut flesh and left a smell of freshness in the air. Xenon then grabbed some bandages and wrapped them around his shoulder. The wound was healed, now he must heal another one. When he walked over to Mozak, he had already lit a fire. There was a blank face as he starred at the fire, but Xenon knew Mozak was not fine.
Mozak looked up when he saw Xenon approaching. "Hey. Are you feeling better?" Mozak asked.
Xenon looked upset now. "Yes I am. Thank you. But right now I think we should talk."
"About what?" Mozak asked. He tried to sound confused, but he knew what it was about.
"About your family Mozak, I'm deeply sorry that they d… didn't make it. I want you to know that it wasn't my intention in any way to harm them, and it wasn't your fault at all," Xenon said caringly.
Mozak just shook his head. "No it is my fault. I tried to get them to prevent something bad happening to them, and still something bad happen to them, and now they're dead. The Archers were cruel in that matter, but what can you expect? My father broke the law, and I broke the law too. In this time , breaking a law is more severe, and we're taught that. But I still did it. And now they're dead," Mozak finished. He felt angry tears starting to form from his eyes.
Xenon still looked worried. He didn't know what he could do about this? He then realized the only thing he could do. "Mozak. What do you feel?" Xenon asked.
Mozak looked confused. What do I feel? Mozak then realized what it meant, and knew how he felt. "I feel nothing, yet I feel everything. I feel sad, devastated, that my family is gone. But new thoughts are popping into my head, the ideas of freedom and adventure, and they are clouding my grief. I don't even though if I even loved them anymore? My father never gave me the look of his eye, my brother was a snob, and my mother worked herself till her breaking point. A house like that was a nut house in other words. Somehow, letting them be gone has made me better. Now I know that it completely wrong to feel, but I feel it. I'm upset yes, but I feel I can still move on with my life. I'm angry, angry at the Archers for killing them, but I don't feel it was wrong. The Archers were simply following the rules we all obeyed to follow, and my family broke them. It was sour but rightful justice. So I'm not sure how I feel. I just feel scrambled," Mozak finished.
Xenon looked with open eyes, he didn't expect that much information. He now understood everything, and he realized the best thing for them to do right now is to get some sleep. "Let's get to bed. I think we'll both feel better in the morning," Xenon said.
They let the fireplace burn out as they slept. Xenon slept silently, but Mozak didn't. In fact, he wasn't even sleeping. He was still awake, starring at the cave ceiling. Mozak's mind was like a bee hive, with bees flying all over the place. He felt restless, but he couldn't rest. The mere feeling gave Mozak a pounding headache. He then realized what he needs to do. He must find a way to relax. How can he relax? What can he do right now to help himself relax? Mozak then discovered the truth to his answer and got up. He walked outside the cave and sat on the pathway stair. From there, he watched the stars sparkle in the sky, and examined the landscape once more. He breathed a couple of times while looking and flicked his tongue in response a couple of times. Mozak then had a smile across his face. He finally was a rest.
Mozak didn't realize what was on top of the mountain, nor did Xenon, because it came out only at night. A creature looked over the mountainside on its nest on top of the mountain. It looked tired but angry that an intruder was on its mountain. The creature flapped its wings and began to decline down the mountainside slowly.  Mozak then heard a flapping sound and looked up in shock. There are something flying down the mountainside, but he couldn't see it because of the height it was at. When it got closer, Mozak discovered what it was.
It was some type of flying beast, but it looked more like a giant cat than a lizard. It had a large main coming down to its chest from his head, and giant bat-like wings. Its white teeth sparkled in the night, and his claws were pitch black. There were scars all over its body. When it landed, it did the strangest thing, it talked.
"Why do you come to my home, green-man? Don't you have a home of your own, green-man," the creature said purring angrily.
Mozak took a step up quickly. "I apologize for this intrusion, me and my comrade had no idea someone lived here. By the way, what are you?"
The creature growled, "You dare question me on my own house, green-man! Who gave you the power?"
"I'm sorry again. I was just interested in what you were? I've never seen your kind before," Mozak said while smiling nervously.
The creature took a step back, and lowered it's wings. "I am Leon the Basurero. The keeper of this mountain. I guard it from enemies, like yourself, green-man."
Mozak quickly intervened. "No no! You must be mistaken. We wish no harm to you."
"It doesn't matter. No one is allowed here green-man, only other Basurero. You leave, now," Leon boomed.
Mozak heard Xenon come out. "What' going o…" Xenon stopped talking and looked at Leon. A face of fear spread across Xenon's face, and Leon's face filled with anger.
"Trick Wizard! You invade my home, and always bring death to my kind, you clear devils!" Leon roared.
Leon leaped at Xenon, and Xenon put up a magical shield. It pushed Leon back, but Leon was still going at him. He wanted Xenon in his jaws this night. He leaped again, but this time Xenon got pinned under him. Leon was about to bite Xenon, when Mozak kicked him off the side. Leon fell, but flew back up. He roared that echoed the entire mountain, and maybe even the world that silent night. Then, out of smaller caves on the mountain, came smaller Basureros. They looked angry, and hungry. Xenon ran inside and got his stuff while this was happening. Mozak was just watching it all happen.
"Quickly! We need to leave!" Xenon said as he ran out of the cave. Xenon then quickly threw something at Mozak, and Mozak catched it. Mozak then realized it was a small bronze sword. "Use it to defend yourself. Come one!" Xenon yelled to him.
Mozak never knew how to use a sword, but his main priority now was to run. Xenon and Mozak ran down the mountainside, as the flying-lions came down to bite them. Xenon forced them back with shields, and shocks of lightning. The Basurero become stunned and fell, but others kept pushing through. Mozak was trying to fight but was just swinging his sword around. It was then that Mozak actually got something. His sword went into a Basurero's head and began to scream. Mozak quickly pulled it out, as the creature became silent, then it fell to its death. Mozak then quickly continued to slash at the monsters.
Suddenly, a Basurero rammed right into them, and Xenon and Mozak were falling down the mountainside. They were thirty feet up, and Xenon grabbed the Basurero, and Mozak grabbed the Basurero's legs. They began to fall quickly as the Basurero collapsed on the ground from the impact. Mozak and Xenon, using the creature as a parachute, got up and began to run. But a Basurero landed right in front of them, and then another behind them. Soon they were surrounded by Basureros, and Leon walked up to them.
"You will finally pay for what you did, Trick Wizard," Leon growled.
Xenon didn't know what to do. He didn't even know that Leon was still alive, and they found a way to survive, but he thought he was sure that he killed them all. Xenon knew only one thing now, he couldn't run, and he couldn't leave Mozak. So, the only solution was to fight.
But as this was going on, the morning sun began to rise slowly. It was if the forces of light was bathing the dark world, and when it finished climbing the mountains, it exploded the world into light. The Basureros began to scream in pain. Mozak had no idea why they were screaming, but he realized what was happening. The Basureros' skin was burning, and spots of flesh were boiling out. The creatures swopped away quickly, back into the caves in the mountain. Leon was the last to go.
"I curse you Trick Wizard. I curse you, so you will not hurt anyone anymore!" Leon yelled in pain as he flew quickly into the caves.
Mozak and Xenon just stood there in silence for a moment, as the morning sky began to unfold. Mozak looked at Xenon confused.
"Xenon. What did Leon mean that you'll pay for what you did?" Mozak asked.
Xenon sighed. "A long time ago, the Basureros were terrorizing villages near Ares, so I met with Leon to discuss a truce. Seeing how there was no equal agreement to be made, I destroyed their hideout, so the sun will burn them out. They all fled quickly as they can, and Leon hated me ever since," Xenon said.
Mozak still looked uncertain. "It seemed Leon must've known you were here, if you stayed the night before coming to the Caverns?", Mozak said.
"Yes. It's quite strange," Xenon said. "Now then let us begin our quest. We must find the Purple Rider in the West. The West is a vast Desert, so there are only a few cities that it could've went too."
Mozak looked at Xenon surprised. That was very quick to come up with? But Mozak knew that Xenon was planning this for a long time, he was just waiting for Mozak to be ready. And Mozak was ready.
"Ok. Let's begin," Mozak said.
Xenon and Mozak walked across the vast landscape, and in the distance, they could see the image of the treacherous infinite Desert.
Meanwhile, the Archers have reached the sandy beaches of the South. It was early in the morning, and the sun was just floating on top of the horizon. The sand felt cool and soft on the Archers feet as they walked along the beach. The sound of the waves calmly crashing down gave the area an peaceful atmosphere. And on the rock, stood the Ancient Oracle. The Oracle, just like the texts, knew all information about the world. It could see the future from experiencing the past. The Oracle had a long beak and face covered in black, and large white eyes. It had a slim curved body, as it sat crisscrossed on a flat white rock. It took in the morning breath slowly and steadily. The Archers approached the Oracle quietly.
Radon broke the silence, "Greetings wise Oracle, we wish you no harm. We only seek knowledge."
"Knowledge? Of what kind?" said The Oracle.
"Knowledge to help bring Order to the scrambled World," Radon answered.
"Order, or Tyranny?" The Oracle questioned.
"Thesse are dreadful timess, we only sseek to rebuild this corrupt world. We need to the locationss of the Textss," Tungsten replied.
"Why do you need these Texts?" The Oracle questioned.
"These Texts are scriptures from our ancestors centuries ago, and they may by the only way to help heal this broken planet," Zinc answered.
"How so?" questioned The Oracle.
"With the textss, we will be able to bring a perfect order to the world, where no one will make the ssame misstakess again. We are the sshadowss of Mortem'ss hand," replied Tungsten.
"How do you decide what Mortem thinks? Aren't we all punished by Mortem's will?" The Oracle asked.
"Yes, we all are. We will never put our input onto the lord, we only wish to spread his ways," Zinc explained.
"And what is his ways?" The Oracle questioned.
"To bring an order to the world that will balance out with the already corrupt state. A wild dog must live through harsh punishments to learn from its mistakes, and over time from learning, it'll move past it's mistakes, and become a well-trained pet," Radon explained.
"But what are the limits? When will you reward the dog or whip it into submission?" The Oracle questioned.
"Limits are very strict now, for the world is very intense now. The remaining empires are collapsing, and creatures are resorting to violence; mindless, blood lusting violence. We may be the only hope to bring order back to the world, because of our military and government strength. It may seem cruel, but it may be the only one left," Zinc answered.
"But what gives you the utmost right to rule above others? Besides from your tactics, you are the punished creatures by Mortem; the Lizard-people. Why would the World be governed by the punished?", The Oracle questioned again.
Argon then decided to say something, which quickly worried Zinc. That gator could say some mean things.
"NOW LISTEN! WE KNOW YOU DON'T TRUST US BECAUSE OF OUR BELIEFS, AND I CAN UNDERSTAND THAT. YOU ALSO KNOW THAT WE MIGHT BE SUSPUCIOUS OF A BLACK CROW SITTING ON A WHITE ROCK ALL DAY TAKING IN THE TOXIC AIR. BUT YOU KEEP TO YOR IDEALS, AND WE HOLD ONTO OURS. BUT WHY WE COME HERE ISN'T TO DESTROY THE WORLD, BUT TO HELP SAVE IT. WE AREN'T THE ONLY ONES PUNISHED, EVERYONE IS PUNISHED IN A DIFFERENT WAY. FROM US TO THE MUTANTS, WE ALL ARE PUNSIHED. THESE TEXTS ARE THE LAST HOPE FOR SOCIETY, AND WE MIGHT NOT SEEM APPROPRIATE FOR THE ROLE, WE MAY BE THE ONLY ONES WHO CAN DO IT. WE ALL NEED TO UNDERSTAND THE MAIN IDEA OF OUR PUNISHMENT: The lesson. A LESSON IN WHICH WE ALL EQUALLY GET TREATED THE SAME WAY FOR OUR ERRORS. WE MUST LEARN FROM OUR MISTAKES, AND WORK TO NOT MAKING THE SAME MISTAKES AGAIN. THESE TEXTS GIVE US THE INFORMATION TO CONDUCT THIS MUSIC. THESE TEXTS CAN HELP BRING ORDER TO THE WORLD, WITH A NEW GOVERNMENT, THAT'LL CONTAIN THE IDEALS OF BOTH PAST AND FUTURE. THESE TEXTS ARE OUR LAST HOPE OF PEACE. NOW YOU DON'T HAVE TO TELL US, BUT LET ME ASK YOU ONE QUESTION: What do you have to lose?" Argon finished.
The Oracle sat in silence for a moment, as the morning sun was finally fished out of the ocean. The Oracle then spoke, "Very well. But remember this Arrows of Snakes, what you do will impact everyone, either good or bad. You must understand the difference between your desire to bring order with power, and the ambition with power. One will bring a just society, the other will destroy it. Now I will tell you. The Purple Rider lives in the Infinite Desert by the Metal Mountains, with The Forbidden Texts. The Orange Rider lives in the Icy Mountains by the Remnants of the Dragons, with The Tablets of Ram. That is all."
The Archers listened silently as The Oracle spoke his wise information, and Tungsten broke the silence. "Thank you wisse Oracle. You have helped uss greatly. Now, we musst retrieve the textss. I ssugesst that Argon, Radon, and Zinc go to the Dessert to get The Forbidden Textss, and I and Boro will go to the White Mountainss to get The Tabletss of Ram. All in favor?" Tungsten asked.
"Aye," said the Archers.
The Archers left The Oracle on the White Rock and began their journey. They stopped at the nearby Town of the Fish, to get supplies for the expedition. Argon, Radon, and Zinc rode off West to the Desert, and Tungsten and Boro rode East to the White Mountains. The Desert, an example of Mortem's punishments, and the White Mountains, the place of Mortem's secrets, were both equally dangerous. Dangerous in which they were never explored before and cover unexplained anomalies. But the Archers were ready, both physically and mentally, and would not back now. They rode off, through the Waste Lands. As Mozak and Xenon marched across the perilous Desert, the Archers of the Last Khan were right behind them.