Struggle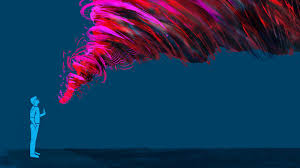 In many forms, there is the emergence of struggle,
That causes the Mind to tumble,
In the Dark Parts of the Mind it Forages,
It can arise with many Origins.
But when it reaches the Brain,
The pink landscape is tightened with Cramps and Pain.
With every painful Thought,
It still increases by a Lot.
It tightens the back and Mind,
Making everything a difficult Grind.
But overtime, there will be something to find,
And it will come gentle and kind.
Arrives Big as a Lake or Small as a Pond,
But will always bring Absolute Calm. 
And those twisted thoughts will not stay,
And will realize to finally wash away.
And even though there is no reason or Rhyme,
It will always come after Overtime.