Rick Riordan's Latest Masterpiece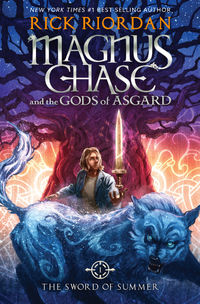 Have you ever heard of the bestselling author Rick Riordan? He's back to writing about mythology, and this time it's Norse! It's basically Percy Jackson plus Thor and Loki! All the humor, sarcasm and adventures we love to read about is doubled in the new Magnus Chase series.
The first book, The Sword of Summer, came out this on October 6th. This book is about a homeless sixteen-year-old boy, Magnus. He doesn't know much about the Norse gods until he dies in combat, sword in hand, and becomes an einherjar, or a dead Norse warrior. He and his friends, Hearthstone, Blitzen, and Samirah (aka Sam), go on a quest to save the Nine Worlds.
The Sword of Summer demonstrates diversity, friendship, wit, and fun. Read the book to find out more!