Freshman Class Enjoys a West Side Story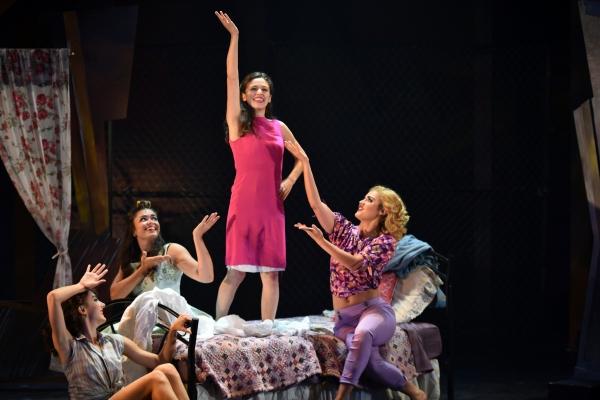 On November 4, 2015, the BHS freshmen class took a field trip to view the John W. Engeman Theater's production of West Side Story. The theater is located in Northport, Long Island. Students had the opportunity to watch the show, in great seats, and afterwards were able to converse with the actors and actresses in a Q&A session.
The show was wonderful. The choreography was perfectly executed, as were the spot on singing and Puerto Rican accents, which sounded very realistic.  Compared to the original Broadway production and the 1961 film adaptation, the cast was very similar looking and their impressions of the characters were natural.  The costumes, though simple, fit the setting of 1950s New York City well.
West Side Story  is an adaptation of Shakespeare's Romeo and Juliet, revolving around two gangs, the Sharks and the Jets. Bernardo, played by Nikko Kimzin, is the Puerto Rican leader of the Sharks and his little sister Maria, played by Samantha Williams, falls in love with one of the Jets' oldest members,  All-American Tony, played by Zach Trimmer. Without their friends and family's approval, Tony and Maria continue their whirlwind romance consisting of music, dance, laughter, and tragedy.
During the Q&A, students learned what it's like to be part of a mainstage production and what the audition process is like. Catie Hernandez, BHS's very own production stage manager, asked the actors what advice they could offer to cooperate during tech week (the week of the opening night). Stage Manager, Sarah Hall responded with one word- patience.  Olivia Berry asked how the actors and stagehands prevented costume and hair malfunctions on stage. The actors simultaneously agreed that there was no prevention.  Karli Dinardo (Anita) stated, "You just have to hope it doesn't happen and if it does, deal with it. You make up a few lines here and there and nobody notices".
The actors also shared their experience of casting, consisting of an acting audition, singing audition, and a dancing audition. With around a hundred other people trying out for the same thing, the competition is fierce.  Those who made it were very lucky. Overall, the show was amazing and a great opportunity for the freshmen class.