AMERICAN PRIDE REBORN ON THE STAGE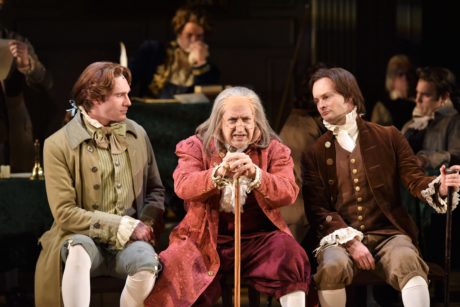 Everyone in New York has had one show on their minds since the summer of 2015, and that show is Hamilton. Yes, everyone knows it tells the story of one of America's founding fathers, and his help of making the great country called the U.S.A., but do you really want to pay $500 a ticket? Why not choose a show that still tells the story of how America became a nation, and see it at a much more affordable price?
I'm talking about 1776, a classic American musical which has recently opened at the John W. Engeman Theater in Northport. Originally premiering on Broadway in 1969, and taking home the Tony Award for Best Musical, the musical tells the story of the founding fathers of America, and how they drafted the famous document that gave America its independence. Everyone knows that the Declaration of Independence was passed, but did you know that it almost wasn't? This musical explains the ups and downs these famous politicians faced when it came time to break away from the crown, and their inner opinions about one another.
I'm sure many students that have heard about this show have said "Oh, god, this sounds like the most boring thing I have ever heard. Why should I sit through this garbage?" Let me assure you, it's not. Director Igor Goldin has created a heated debate that proves the point that America has come such a long way in history, and that we, as people, have changed very little.
With the help of an elegantly designed set by Stephen Dobay that resembles many of the paintings I've seen of Independence Hall, lighting by Cory Pattak that creates just the right amount of intensity, humor, and romance, and remarkably accurate costume and wig design by Kurt Alger (the wigs were so believable that when I waited for autographs after the show, I couldn't tell who was who), Mr. Goldin has given new life to an American Classic that gives us a strong feeling of nationalism for our home country.
The real points for this show goes to its male-dominant (with only two females) cast. Each man delivered such jaw-dropping performances, but one stood out from the rest, James Laverdiere. Mr. Laverdiere's (who I have seen at this theater before in Sweet Charity and Sandy Rustin's The Cottage) portrayal of Massachusetts congressman John Adams was one of the best male performances I have seen on the Engeman stage in a long time. While his singing was spot-on, his acting abilities are what make his performance unforgettable. He gives so much passion to his performance that his powerful presence reaches up to the heavens. If they gave Tony Awards to any of the shows at this theater, the award for Best Actor in a Musical would be given to him for this extraordinary performance.
While Mr. Laverdiere is the star attraction of this masterpiece, there were a few other performances that caught my eye. David Studwell gives a heart-warming and humorous portrayal of Dr. Benjamin Franklin (and he e just so happens to look exactly like Dr. Franklin!), and delivers, with a gentle manner and strength, the show's central message of doing whatever it takes to achieve your goals. Michael Glavan gives a laudable performance as Thomas Jefferson, showing his growth from a shy congressman to becoming a powerful writer for the Declaration of Independence. Adriana Milbrath, as Martha Jefferson, presents her one song, "He Plays The Violin," with gorgeous vocals and a sense of purpose. Jennifer Hope Wills' Abigail Adams started out a little bit scratchy, but as the show progressed, blossomed into a performance of full-throttled brilliance. Benjamin Howes was deliciously evil as Pennsylvania congressman/John-Adams-hater John Dickinson. His one song, "Cool, Cool, Considerate Men," was delivered perfectly with the aid of a beautifully harmonized chorus of congressmen. John Reinhold was hysterical as Richard Henry Lee. His single song, "The Lees of Old Virginia," was given just the right amount of comedic timing and southern hospitality. And, the best for last, Peter Saide, who played South Carolinian delegate Edward Rutledge, started out as a stiff onstage, but when his major song, "Molasses and Rum," came up, he truly arrested the room with the help of some powerful vocals, red and yellow lighting, and smoke, which made the number even more intense than one could ever imagine. The truth is that every person in this show has their moments, and when they come up, they take advantage of it, and turn the moment into something memorable.
So while this heated election year is upon us, I can assure you that 1776 will help you realize that no matter what happens, America will still be the place we call "The Land of The Free and The Home of the Brave."
Showtimes: Wednesdays at 8:00 p.m. , Thursdays at 8:00 p.m. , Fridays at 8:00 p.m. , Saturdays at 3:00 p.m. & 8:00 p.m. , and Sundays at 2:00 p.m. and 7:00 p.m. Now through November 6th, 2016
Info: (631) 261-2900.                
Tickets: $71.00 – $76.00