A Jolly Holiday Indeed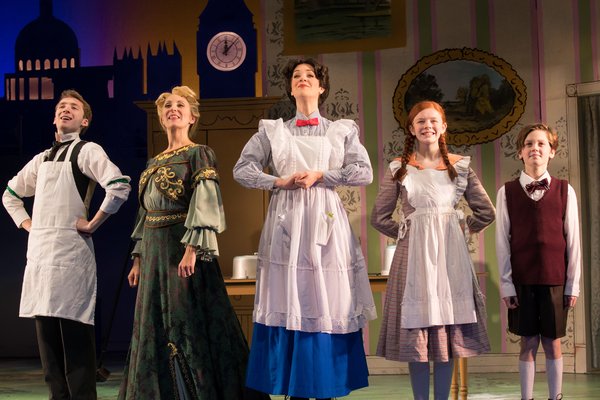 With the holidays fast approaching, everyone is looking for activities to do with their families both now and for the upcoming break from school. Why not watch a movie or show the whole family would enjoy? Of course when you think movies and shows at this time of year, you think of "White Christmas," or "A Christmas Story," or "Miracle On 34th Street." But we must remember that not everything at this time of year has to celebrate the yuletide season, this is a time of year for the kids, and that is what the John W. Engeman Theater in Northport has decided to do for this holiday season, and it's "practically perfect in every way."
"Mary Poppins," the beloved 1964 Disney movie starring Julie Andrews and Dick Van Dyke, based on the novels by P.L. Travers, was brought to life on the great white way in 2006, and had audiences mesmerized for eight years, where it sadly closed to make room for Disney's new hit musical, "Aladdin." When I heard that the Engeman Theater was presenting this show for their tenth season, I feared that the show would lose its magic touch that I had seen and loved when I saw it on Broadway. I am thankful to say that nothing was lost in this astonishingly beautiful production.
We all know the story of this beloved Disney classic, which features the beloved score of Richard M. Sherman and Robert B. Sherman, along with new songs and adaptations of original songs by George Styles and Anthony Drewe. It's the beginning of the last century in Edwardian London, and the Banks family of 17 Cherry Tree Lane have been having major issues on trying to maintain a nanny for the family's children, Jane and Michael, who have scared away six nannies in the last four months due to their mischievous ways. It seems hopeless that the Banks will ever find the perfect nanny; that is until a mysterious nanny flies in on a parrot-head-handled umbrella, with a magic carpet bag in hand, and begins to shake things up around the house, and the lives of the people in it. Once settled in, Mary Poppins introduces the Banks children to an array of characters, such as Bert (A low-class man with various-but-exciting jobs), statues in the park, shopkeepers, chimney sweeps, and many more. While the show is based off of the movie, it uses many elements from the book, and takes a little bit of a slip into the dark side of certain matters.
When I saw the show on Broadway, I was only seven and didn't realize any of the serious elements of the show. I never realized that Mr. Banks, a banker who never has time for his children, had a very tortured childhood because of an extremely cruel nanny, nor Mrs. Banks' quest on trying to live up to the title of "Being Mrs. Banks" since she gave up her career as an actress. (In the movie, she is a fighter for Voting rights for women). But none of that stuff seemed to bother me, even when the scenes got hot with intensity between parent and child. Director/Choreographer Drew Humphrey (Who I last saw on this stage in White Christmas) has created a show that keeps a perfect balance between childhood whimsy and adult frailty.
With the aid of a set by Jason Simms that seems to resemble a child's pop-up book, colorfully whimsical yet with spot-on era costumes by Kurt Alger, and zany-yet-rainbow-like lighting by Zach Blane, Mr. Humphrey can be noted, in my book, as a true visionary. His visions can be perfectly observed in his choreography. There are three major dance numbers in this show, but two of them are more remarkable than the other. The first number is "Supercalifragilisticexpialidocious." This number includes perfect in-sync choreography, a very energetic ensemble, and a skillful use of spelling blocks that made spelling out the word less complicated than the sign language used in the Broadway show. The second big number is "Step In Time." What makes this number so exciting is its extraordinary tap dancing chimney sweeps. All I could do during this number was sit in my seat with my mouth open in awe at the spectacle presented before me (If Mary Poppins saw me like this, she would probably say, "Close your mouth, Matthew, we are not codfish."). Mr. Humphrey took one of my favorite childhood memories, gave it new life, and reliving that memory filled me up with so much joy that I was literally floating in midair. I never wanted to come down.
Now I've mentioned a lot of the creative aspects of the show, but what I haven't mentioned yet is the dynamite cast of actors the Engeman has lined up for this production. I guess I'll start with the show's stunning Mary Poppins, Analisa Leaming, who I believe was my understudy for Tony Winner Kelli O'Hara in the Lincoln Center revival of Rodgers and Hammerstein's "The King And I." This woman is, as the song implies, "Practically Perfect." While it is impressive when she flies across the stage, Ms. Leaming shows a perfect sense of authority and lovingness, the voice of an angel, and, as Bert says in the show, "A sight for sore eyes." This is a performance you don't want to miss. If you miss the chance to see Ms. Leaming perform in this show, she will be on Broadway this spring in the revival of "Hello, Dolly!" starring Bette Midler.
Luke Hawkins shines as the cockney "renaissance man," Bert; he's just bursting with so much charisma that it's seriously infectious. Besides having magnificent vocal chops and acting abilities, his dancing is beyond what I expected. That fact is proven in "Step In Time," where he has so many tap solos that it makes me wish that I could be him. Mr. Hawkins is a man of many talents, and I hope to see him on this stage again soon.
David Schmittou proves himself, in the beginning, to be a man of "Precision and Order" as Mr. Banks. But as the show progresses, he gives a performance of such emotion that it's heart wrenchingly beautiful. The same goes for Liz Pearce, who plays Mrs. Banks. Her vocal talents come to life in her solo song, "Being Mrs. Banks," but she shines as the struggling matriarch of the Banks family. The two actors have, what I call, "The Chemistry." It's wonderful to watch their characters take that journey of redemption, and finally bring their family back together in the end.
Finally, there are the Banks children; both of them are adorable, yet slightly devilish. Both kids are beyond talented, and they have a bright future ahead of them, that it's hard to choose which one to start with. So, I'll start with ladies first, and that girl's name is Katherine LaFountain, who plays Jane Banks. This talented redhead can't be more than twelve or thirteen years old, and she's magnificently good at being a little troublemaker. Ms. LaFountain has a pleasant voice, and shows a wide range of emotions that are hard to look for in any child actor; this girl is going places, and there's no one who can stop her.
And then there's the boy, Michael Banks. The character of Michael, in my opinion, is a little bit harder than Jane because Michael tries so hard to be like his father, and feels much neglected that his father won't come out and play with him, so there is a lot more complexity to the character. Christopher McKenna, is delightfully naughty in the beginning, and then once the show gets going, steals your heart with his adorable charm, funny one-liners, and heartbreaking emotion that, like I said before, is hard to find in many child actors (All of what I write is not favoritism). Mr. McKenna makes you want to reach out to the character of Michael, not for his cuteness or amazing vocal abilities, but for the broken heart that Mr. Banks has created in this troublesome child. Mr. McKenna has big things coming his way in the future, and I know that he will be awesome no matter what.
The ensemble of this extravaganza has many standouts that, in my opinion, stole the scene away from the leads of the show. Linda Cameron and Danny Meglio are absolutely hysterical as the Banks family's overworked servants, Mrs. Brill and Robertson Ay. Jane Blass is absolutely stunning as Mr. Banks' evil childhood nanny, Miss Andrew, and she definitely owns her one song, "Brimstone And Treacle," both vocally and comically. Suzanne Mason, who plays the old Bird Woman, sings her one song, "Feed The Birds," with such frailty and sweetness that it's the most majestic sound I have ever heard in my life. Finally, Meaghan McInnes, another good friend of mine, plays Valentine, a doll who has been treated unfairly by the Banks children, and wants to rebel against their actions, along with every other toy the children have ever owned and tortured. She gives quite a fiery performance in her song, "Playing The Game," and wins you over with her cuteness and her vocal abilities. All the ensemble members play their parts, and help create a night at the theater no one is bound to forget.
We must remember that children are the most important people in the world, and what "Mary Poppins" teaches us is that we can never neglect the young ones we are surrounded by. I can guarantee you that the John W. Engeman Theater's magnificent production of this beloved Disney classic is a holiday delight your whole family will enjoy and live in your hearts for years to come.
Show Times: Tuesdays at 7:00 p.m., Wednesdays at 8:00 p.m., Thursdays at 8:00 p.m., Fridays at 3:00 p.m. and 8:00 p.m., Saturdays at 3:00 p.m. and 8:00 p.m., and Sundays at 2:00 p.m. and 7:00 p.m. (Plus Monday, December 26th, 2016, at 7:00 p.m.)
When: Now through December 31st, 2016
Info:
Address: John W. Engeman Theater in Northport 250 Main St, Northport, NY 11768

(631) 261-2900

Tickets: $71.00 – $76.00